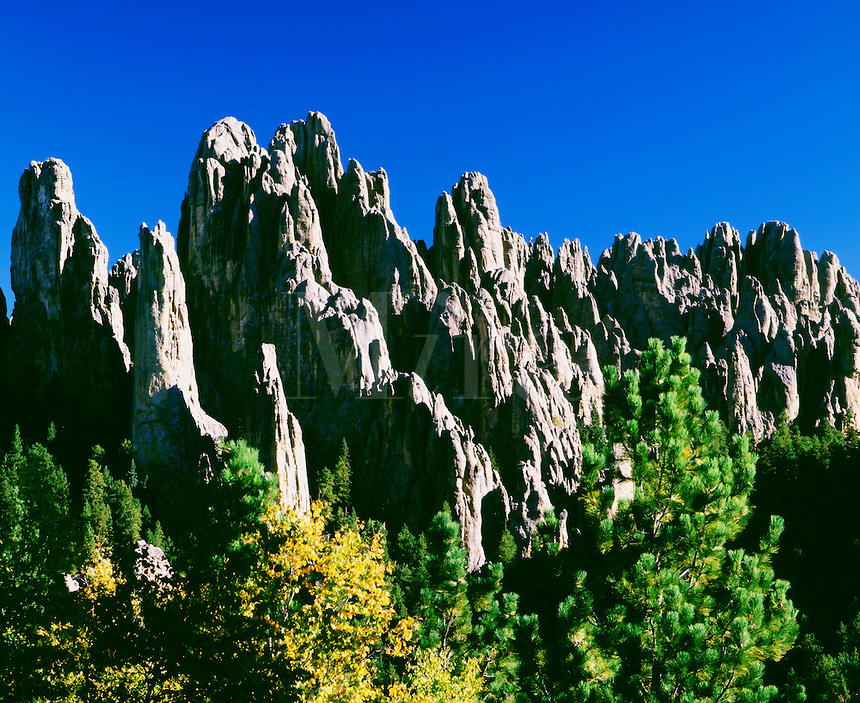 THE NEEDLES HWY
KEYSTONE, SD

SIGHTS ALONG THE NEEDLES HWY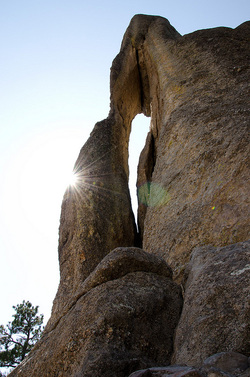 Deemed "impossible" to construct by its critics, the Needles highway—a National Scenic Byway—was completed in 1922 and includes 14 miles of sharp turns, low tunnels, and impressive granite spires. The road lies within the 73,000 acre Custer State Park.
You won't want to be in a rush when you drive the Needles Highway. As part of the Peter Norbeck Scenic Byway, the Needles Highway stretches 14 miles through granite structures and pine covered mountains. With so much scenery to absorb, don't be surprised if you find yourself driving 20 miles per hour. The surrounding scenery and wildlife have a tendency to capture the imagination and delight of everyone who come through this area. But don't worry about hurrying, either. The narrow, windy roads and tunnels primarily attract tourists and sight-seers looking to take their time among the pine and spruce forests and open meadows of the Black Hills. After splitting from US 16A, the route is known as the Needles Highway. The highway is named after the high granite "needles" it winds among. Along this stretch lies the Black Hills Playhouse. The highway passes through two tiny tunnels blasted through sheer granite walls—Iron Creek Tunnel at mile 25, and Needles Eye Tunnel at mile 31. Owing to the narrow roadway, sharp turns, and low tunnels, the road has very little traffic. The vehicles that do travel this road are almost exclusively bikers and sightseers.

Just after Needles Eye Tunnel, SD 87 has one more tunnel, Hood Tunnel, at milepost 33. It then provides access to the Sylvan Lake Resort. Sylvan Lake and the Needle's Eye are two spots well-worth stopping for. Sylvan Lake is a picturesque lake set among hills, trees and large granite outcroppings. In addition to hiking trails, the lake is perfect for cooling off in. The Needle's Eye is one of the most memorable granite needles along the drive, with its signature 'eye' formed by countless years of rain, ice and wind.

Sylvan Lake is one of Custer State Park's highlights and a beautiful spot to stretch your legs while hiking or playing in the water. Mountain goats, bighorn sheep, deer, bison, elk and more wildlife of all types can be found all along the way.
STATS:
14 MILES
OVER 360 CURVES
32 SWITCHBACKS
UNMARKED CLIFF HANGING
KIDDIE CAR SIZED LANES
2 TINY TUNNELS
AND MUCH MORE!!
DON'T BE FOOLED BY IMITATORS

DAKOTA LEATHER OUTLET OFFERS THE "ORIGINAL" AND EXCLUSIVE COPYRIGHTED, TRADEMARKED™ AND REGISTERED®
"I SURVIVED THE NEEDLES HWY"® AND "I RODE THE NEEDLES HWY"® PRODUCTS AND SOUVENIRS DESIGNED AND PRINTED EXCLUSIVELY IN KEYSTONE, SD
AFTER YOUR JOURNEY OVER THE NEEDLES HWY, STOP BY DAKOTA LEATHER OUTLET AND PURCHASE YOUR
"I SURVIVED THE NEEDLES HWY"® OR "I RODE THE NEEDLES HWY"® T-SHIRTS, HATS, PATCHES AND OTHER NEEDLES HWY SOUVENIRS.
THESE UNIQUE "I SURVIVED THE NEEDLES HWY"® PRODUCTS ARE A CLASSIC ACCOUNT OF YOUR JOURNEY OVER THE NEEDLES HWY DESCRIBING IN DETAILED GRAPHICS WITH ACTUAL ROAD SIGN PICTURES OF YOUR JOURNEY.
ENJOY THE SLIDE SHOW BELOW!

---

© 2013-2017 All trademarks and copyrights which include images and copy are the sole property of Dakota Leather Outlet Inc. and are registered with the State of South Dakota and the United States Patent and Trademark office. All rights reserved
"I SURVIVED THE NEEDLES HWY"® AND "I RODE THE NEEDLES HWY"® ALL GRAPHICS AND LAYOUT ARE REGISTERED AND COPYRIGHTED TRADE MARKS OF DAKOTA LEATHER OUTLET, INC. NO PORTION OF THESE TRADE MARKED AND COPY RIGHTED DESIGNS OR GRAPHICS MAY NOT BE REPRODUCED IN PART OR IN FULL WITH OUT THE EXPRESSED WRITTEN CONSENT OF DAKOTA LEATHER, INC.